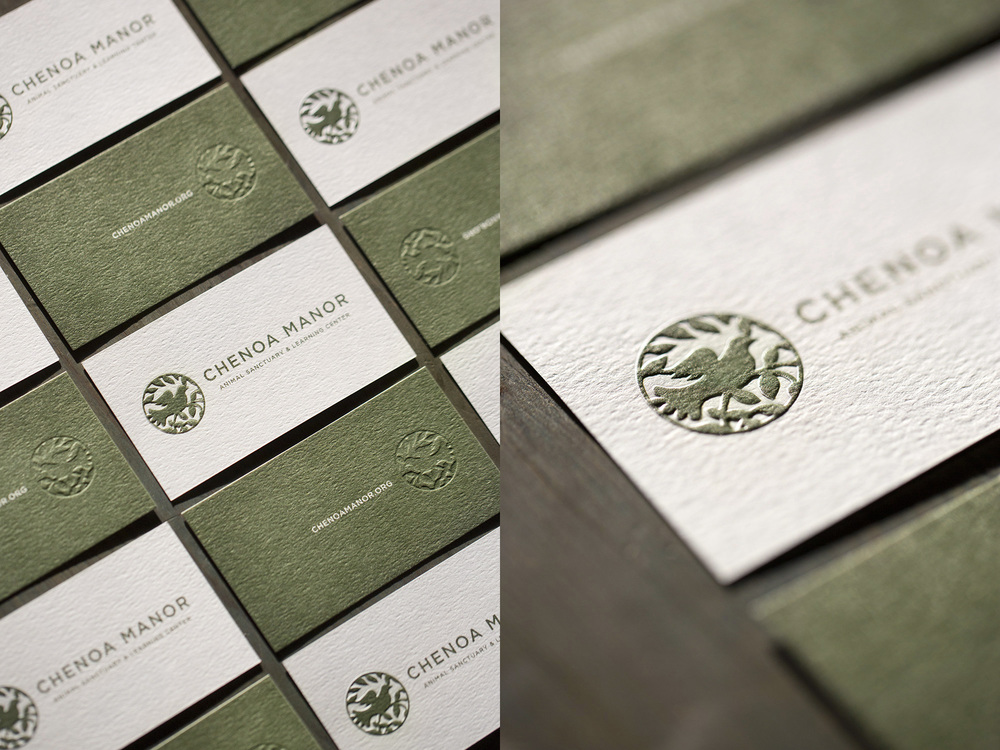 CHENOA MANOR
Chenoa Manor is a non-profit animal sanctuary and learning center in Avondale, Pennsylvania. Chenoa is dedicated to providing a safe, peaceful home for animals that includes cows, pigs, goats, chicken, horses, exotic birds, rabbits, llamas and other farm animals. The word "Chenoa" is often attributed to Native American translations meaning "White Dove", which is the perfect representative for a place that advocates compassionate living, environmental responsibility, humane education and the peaceful co-existence between humans and animals. As a non-profit, Chenoa relies on charitable donations and volunteers, and our goal was to create an identity that represented a welcome, peaceful place for both the animals and visitors.
We designed a rustic, folk inspired logo mark with the Dove, a universal symbol for hope and peace. We were inspired by the rustic, earthy palette of the farm, and created a color palette of muted, mossy greens and the warm grays of the trees and barn woods found throughout the farm.
It was important that the Chenoa branding feel welcoming and positive, while being respectful of the purpose and on-going needs of a rescue sanctuary. We designed a variety of promotional items including hats, canvas grocery totes, t-shirts and reusable water bottles, all crafted from sustainable, recycled materials. We created business cards, stationery, letterhead & other paper goods printed on recycled & even seed-based papers. Everything we designed for Chenoa, we wanted to be eco-friendly and animal positive, in maintaining the farms compassionate lifestyle advocacy & education.
SERVICES
BRAND STRATEGY, RESEARCH AND DEVELOPMENT / LOGO DESIGN AND ILLUSTRATION / VISUAL IDENTITY / PACKAGING / PRINTED MATERIALS / WEB DESIGN & PROGRAMMING